The Western House Rebellion
Uncommon Races
Uncommon Races are those that have come through the Confluence Gates more recently from other planes or worlds, and have a far smaller presence. If you wish to play one of these races, please consult the wiki pages for each for tips on back story.
Dragonborn

Though on the rise in recent years, the Dragonborn population of Tjara has always been relatively low. Stalwart and gruff, the Dragonborn are sought-after in armies, and are offered greater starting pay because of their innate resiliency. The Dragonborn's highest priority is the protection of his or her family. The brood comes first, and blood ties cannot be broken for the sake of any.
Tiefling

Originally emissaries from the Nine Hells, Tieflings began settling in the area around Burning Gate some time around 3320 A.C.A. Since then, their presence has grown to include more of the eastern islands, and some have moved into the southernmost areas of Man'at. The Tiefling is gregarious, trusting to a kind of natural charm that often serves them well. Some Tieflings enter into the service of Tjaran lords, but they are not greatly trusted. They are seen as a liability because of their demonic heritage.
Minotaur

The Minotaur dwell in several cities in the mountains, so that they might be close to their beloved stone. Minotaur
Stone Singers
have induced the rock of entire cliff faces into fanciful shapes that become their homes. Even those not fortunate enough to possess the gift of singing stone have a deep connection to the earth. Often becoming stonemasons or miners, Minotaur are constantly searching for a greater understanding of the ground beneath their feet. Minotaur might take up arms in defense of their homes, and ally themselves with others, but they profess to serve no lord or king.
Shadar-kai

The Shadar-kai are often seen as emissaries of the Shadowfell, or in alliance with some of the more dodgy elements of Tjaran society. It is their way to go where they wind takes them, but little else is understood about their behavior. While not openly hostile to the Twilight Guard, you will never see a Shadar-kai among its members. They often view the Guard as terrorists, but the feeling is mutual.
Revenant

Serving their own ends, the Revenant will be found in places of conflict and influence. They are scouts, mercenaries, bodyguards and messengers. Because they are difficult to entirely kill, Revenants make wonderful spies and assassins. They can be found among every race on Tjara, with the exception of Estrellani.
Changeling

These shape-shifters did not, like the elves or dwarves, arrive on Tjara through one of the Planar Gates. The changelings simply began to appear, right around a thousand years ago. A changeling might be born to parents of any of the non-native humanoid races (i.e, not from the Seten Manus). A notable exception to this is any race that claims its heritage from immortal origins, such as the Deva or Estrellani. When in its original form, a changeling resembles the race it was born into, only slightly smaller than normal, with eyes that are entirely black. Changelings, when breeding with other changelings, may produce more changelings, but rarely when reproducing with another race. Innate masters of camouflage, they disguise themselves not only in a physical sense, but also with their behavior. Simply from observation, a changeling might be able to copy even the most subtle mannerisms, customs, and blend seamlessly into any situation. This, of course, makes them indispensable for many as spies. Changelings tend to be loners for the most part, never feeling like they truly belong anywhere until by chance they meet another of their kind.
Deva

The Deva's presence on Tjara, even if they live out their entire lives there, always seems transitory. This world is merely an in-between place where they must stay for a while. As natural allies to the Estrellani, they have begun congregating in the Altamir Autonomous Region, but many others seem content to live amongst the cities of the world. The Deva are drawn to the Confluence Gates, and many have become Gate Wizards or Keepers of the Way. If asked, none of the Deva would be able to explain this connection, and neither can anyone else.
Genasi

Originally, the Genasi came to Tjara as a refuge from their oppressors in the Elemental Chaos. Soon after their arrival, however, they became entangled in another fight. The Genasi were the founders of the Twilight Guard, and still form its core membership to this day. Those who are among its ranks fight the dark threat of the Morketten, and teach others to do the same. The Genasi who are not among the Guard tend to be craftsmen and merchants, with a few scholars mixed in. The island of S'Imat is the homeland on Tjara for the Genasi, and those who move away often return to visit family there. A genasi's family is very important, with the entire race being an extension of that family.
Githzerai

The Githzerai have come to Tjara to study with the Thryn, and gain from them insight into their ancient ways. Often spending years in seclusion and training, the Githzerai favor those professions which require meditation and dedication. The Githzerai of Tjara are a quiet and unobtrusive people who, while they are found in cities and towns, seem to have the ability to melt into the background. This works to their advantage, since they are avid observers of life, and prefer to do so without interrupting its flow.
Githiyanki

Far fewer in number than their Githzerai cousins, the Githiyanki have come to Tjara on a mission. They gather information, watch and wait for the right time to use what knowledge they gain for the advantage of their people. A Githiyanki often finds employment in the army, or as a mercenary, always sneaking up to the highest rank possible. All the better for gathering intelligence on possible threats and opportunities.
Thryn (
AKA

Thri Kreen)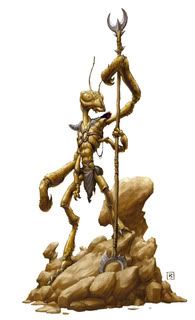 Since long before recorded time, the Thryn have lived on Tjara. By and large, they are a people that remains cloistered in their hive-like desert homes. The Thryn prefer to leave the affairs of others to…others. One of the two ancient races, the Thryn are what some know as Thri Kreen. They resemble mantids, but are much more humanoid. Those Thryn that do leave the home hives find employment where they can, and rarely reveal their true purpose to anyone. That said, the Thryn are the most trustworthy of all Tjara's races.